We have many types and species of wood products on site and can get just about anything but when it comes down to it we are all about cedar! Almost every day someone comments on how good it smells here and that we must never get tired of that smell. Cedar smells so good because of the natural oils and other chemicals present in the wood. Cedar has one of the highest concentrations of these natural chemicals which makes it resistant to rot, decay and insect attacks and this is the main reason it is so useful and durable when used in tough exterior applications such as fences, decks, roofing, siding and even boats. Another characteristic of western red cedar is that it is much better dimensional stability than other comparable softwoods so that cedar is less prone to splitting, cracking, shrinking and expanding, so  that once again it holds up far better in tough environments.
Not only is cedar long lasting, weather resistant and smells great, it is beautiful too. With natural color variations from blonde to dark brown with every imaginable red, tan and brown in between. Clear tight grained wood has its own classic appeal of perfection and knotty cedar has a warm rustic and intriguing character as well.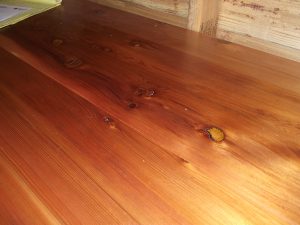 Western Red Cedar is what we mainly offer but there are three other species of western cedars that are worthy of mention and you will find them here as well. All western cedars are similar with regard to their positive characteristics but they also have subtle yet significant differences as well. The other three western cedars are Alaskan Yellow cedar, Incense cedar and Port Orford cedar. They are all yellow or white cedars and actually are variations of the cypress species of tree. These lighter colored cedars do not have tanins like western red cedar but instead rely on their resinous character for protection from bugs, rot and decay. Because they do not contain tanin they do not get the same black stains you will see with western red cedar when left to weather naturally. Yellow cedars will turn to an attractive silver gray color.
Incense cedar is very light in color and comes off of the planer very smooth. It takes a stain well and the material we stock has really good knot structure with no loose or missing knots. This is our decking of choice since it compares well with the select grade western red cedar materials that are available but it is only 3/4 of the price. We have this premium appearance grade decking in 2×4, 2×6 kerf back, 4×4 clear, 4×4 knotty and 2×2 clear.
Alaskan yellow cedar is yellow in color and is very strong. It has a pungent smell and is very durable. Sought after by boat builders and finish carpenters and sometimes hard to obtain. We stock shingles and some shakes and a constantly evolving supply of lumber.
A lot of people don't know this but Port Orford cedar is a naturally occurring hybrid of Alaskan Yellow cedar and Monterrey Cypress. It is light colored, very strong and very resinous, almost sticky to the touch. It is used for making arrow shafts and musical instruments as well as being used extensively in Japanese timber framing. While we do not stock a lot we are constantly growing our offering of this unique and rare lumber.,